The launch of INSAT-3D satellite on 24 July 2013 heralded a new era for meteorological observations from space-based platforms in India. The INSAT-3D was the first dedicated advanced Indian satellite for meteorological applications with an 18 channel (plus a visible channel for cloud detection during daytime) atmospheric infrared sounder and 6-channel Imager on-board. The INSAT-3D is only second such satellite in world that makes sounding observations from geostationary orbit after USA having an operational series of GOES satellites carrying similar infrared Sounder. The major goal of the INSAT-3D satellite was to boost the Indian observational capability for various weather applications, such as nowcasting of the severe weather events and input to the numerical weather prediction models. The INSAT-3D products are operationally available through the INSAT Meteorological Data Processing System (IMDPS) at MOSDAC, Space Applications Centre, Ahmedabad and India Meteorology Department (IMD), New Delhi. The entire INSAT-3D processing system IMDPS was developed by ISRO.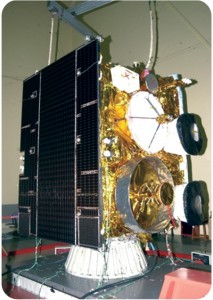 INSAT-3DR during pre-launch test
In this series the INSAT-3DR (INSAT-3D Repeat) is the next satellite that will be launched towards the middle of 2016 to enhance the observational capability of INSAT-3D satellite for various weather applications. The INSAT-3DR is exactly similar to its predecessor. A synergistic use of both INSAT-3D and INSAT-3DR together would be very useful for improvement in the existing algorithms of parameter retrieval as well as weather applications. The main instruments onboard INSAT-3DR are the following :
Imager: It is an improved multi-spectral Imager (optical radiometer) capable of generating the images of the Earth in six wavelength bands significant for meteorological observations, namely, visible (0.55-0.75 µm), shortwave infrared (1.55-1.70 µm), middle infrared (3.8-4.0 µm), water vapour (6.5-7.1 µm) and two bands in thermal infrared (10.2-11.3 µm and 11.5-12.5 µm) regions. The significant improvements in imaging system over that of KALPANA-1 and INSAT-3A enables night time imaging of low clouds/ fog, estimation of Sea Surface Temperature (SST) with better accuracy and acquisition of high spatial resolution images in the visible and thermal infrared bands
Sounder: It is the first geostationary sounder system over Indian Ocean region. It has 19 channels, with 18 narrow spectral channels in shortwave infrared, middle infrared and long wave infrared regions and one channel in the visible region. It provides information on the vertical profiles of temperature, humidity and integrated ozone. These profiles are available for a selected region over Indian landmass every one hour and for the entire Indian Ocean region every six hours
Data Relay Transponder (DRT): It is used for receiving meteorological, hydrological and oceanographic data from remote, uninhabited locations over the coverage area from Data Collection Platforms (DCPs) like Automatic Weather Station (AWS), Automatic Rain Gauge (ARG) and Agro Met Stations (AMS).
Satellite Aided Search and Rescue (SAS & R) Transponder: The payload picks up and relays
the alert signals originating from the distress beacons of maritime, aviation and land based users
to the Indian Mission Control Centre (INMCC), located at Bengaluru