Meteosat Third Generation (MTG) will see the launch of six new satellites from 2021.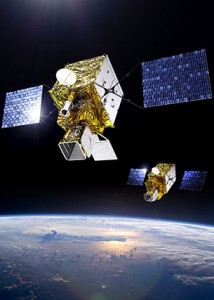 With MTG the user community can look forward to continued visible observations from geostationary orbit, as well as the use of observations from infrared and ultraviolet/visible sounding instruments. As well as improved imagery at 10-minute full disc repeat cycles, the provision of data from the MTG infrared and ultraviolet/visible sounding missions will be crucial for the derivation of quantitative products in future. The series will be based on three axes stabilised platforms, so the instruments will be pointed at the Earth for 100% of their in orbit time, and will comprise four imaging and two sounding satellites.
The imaging satellites, MTG-I, will fly the Flexible Combined Imager (FCI) and the Lightning Imager (LI), an imaging lightning detection instrument.
The sounding satellites, MTG-S, will include an interferometer, the Infrared Sounder (IRS), with hyper-spectral resolution in the thermal spectral domain, and the Sentinel-4 instrument, the high resolution Ultraviolet Visible Near-infrared (UVN) spectrometer.
Ground Segment
The Meteosat Third Generation Ground Segment will acquire data from all the MTG satellites, and generate, archive and distribute the products. It will also provide the capabilities to command and control the satellites and the ground segment itself.
The ground segment consists of:
The Telemetry, Tracking and Control (TT&C) ground stations — the TT&C interface between the Space Segment and the Mission Control Centre.
The Mission Data Acquisition (MDA) ground stations — the payload data interface between the Space Segment and the Mission Control Centre.
The Mission Operations Facility (MOF) — provides functions for the preparation, planning and operation of the system, including satellite and mission operations and flight dynamics.
The Instrument Level 1 Data Processing facilities (IDPF-I and IDPF-S) — these extract the measurements from the sensors. They also perform a series of functions for the generation of level 1b data and the processing of level 1c data.
Level 2 Processing Facility (L2PF), for the extraction of centrally generated products.
Further information on the MTG spacecraft, instruments and services can be found on the MTG Design and the MTG Imaging Service and MTG Sounding Service webpages on the EUMETSAT website.