[ 2018.12.21 04:18 UTC Content has been updated. ]
GEO-KOMPSAT-2A Basic
① Development of Geo-KOMPSAT-2A
Geo-KOMPSAT-2A(hereafter GK-2A) was successfully launched on 5th December of 2018 in Centre spatial guyanais(CSG), which will succeed the COMS(Communication, Ocean and Meteorological Satellite) meteorological mission. The COMS is scheduled to complete its observation operation until March of 2020, the data service will be done until the end of 2019. And the level 1B data of GK-2A will be released on July of 2019 after completion of in-orbit-test(IOT). So there will be six months transition period of user service of COMS and GK-2A parallely from July to December of 2019.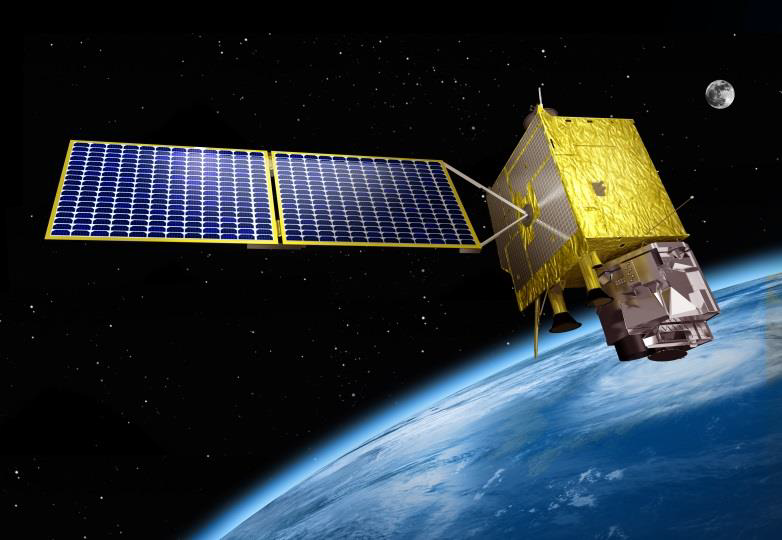 The GK-2A has much better capabilities in terms of observation performance. The number of channels of GK-2A will be increased from 5 to 16 and the number of meteorological products from 16 to 52, respectively. Its ability of full disk scanning of every 10 minutes will enhance the disaster monitoring.
<Comparison of COMS and Geo-KOMPSAT-2A>
② Payload Development
The GEO-KOMPSAT-2A will load two instruments, one is AMI(Advanced Meteorological Imager) for meteorological mission and the other is KSEM(Korea Space wEather Monitor) for space weather mission.
AMI(Advanced Meteorological Imager) 
The AMI is manufactured by Harris Co. and it has 1.3 micrometer channel and doesn't have 2.3 micrometer channel compared to AHI on Himawari-8/9.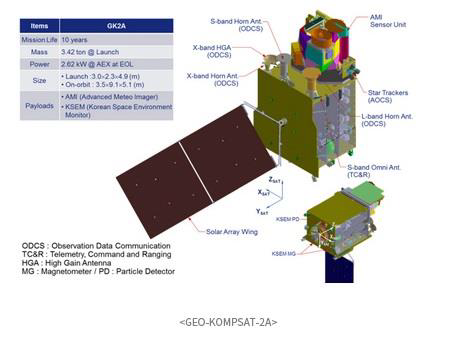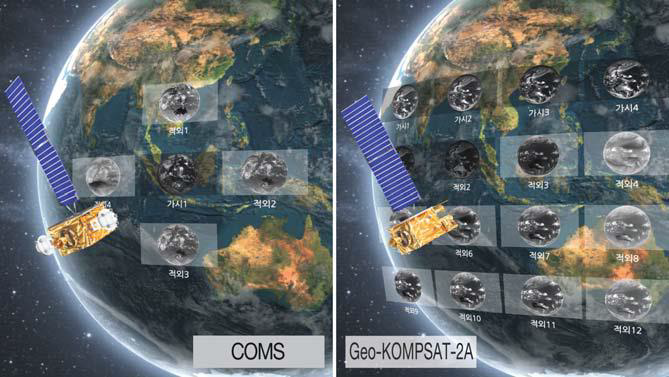 KSEM(Korea Space wEather Monitor)
KSEM is the first Korean space weather instrument suite aboard a GEO satellite. Like the Galaxy 15 anomaly on 2010, GEO satellites are easily exposed to the risk due to severe space weather. It is expected that KSEM data will contribute to secure the satellite operation and the high-tech ground infrastructure
KMA in coordination with KARI selected KHU (Kyunghee University) to develop the KSEM suite of instruments and post-delivery support for the assembly and integration test, pre- and post- launch test of Geo-KOMPSAT-2A. The suite of KSEM instruments consists of particle detector (PD), magnetometer (MAG) and SCM (Satellite Charging Monitor). The sensors are used to monitor the space environment 6 the severe space weather information of high-impact space storms, the radiation environment hazardous to spacecraft, aircraft and radio communication for 24 hours and 7 days during 10 years mission life time.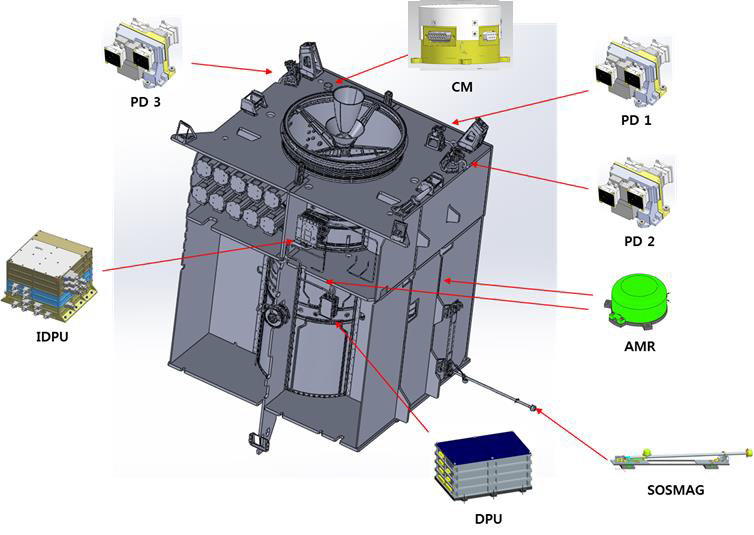 < PD: Particle Detector / MG: Magnetometer / CM: Charging Monitor >
③ Development of ground station
NMSC has been developing the ground station to operate Geo-KOMPSAT-2A since 2014. For non-stop operation and real-time data service, back-up systems will be equipped for all components and the remote data storage will be implemented for enhancing data security.
The Ground Segment of GEO-KOMPSAT-2A will improve the weather forecast accuracy, sharpen the competitive edge in the global meteorological information sector, establish the safety control and climate change response, and cultivate the professional in the meteorological sector.
GEO-KOMPSAT-2A ground segment contains the algorithms to produce 52 meteorological products which will be used for weather forecasting and climatology research. Those algorithms were developed by the universities in Korea, which were modularized, standardized, and parallelized for NMSC to be installed in the data processing system of the ground segment.  the application algorithms to provide more value-added information to the satellite data interpreters, weather forecasters, typhoon analyzers and the satellite data users in many other areas. Four application areas include Nowcasting, Typhoon and Ocean Monitoring, Surface and Hydrology Information, and Climatology and Environmental Monitoring.
GEO-KOMPSAT-2A has the mission to observe the space weather. Five types of space weather outputs are Magnetospheric high energy particle distribution, Geostationary particle distribution, Spacecraft charging index, Dst index, and Kp index. The service of the processed satellite data will be provided in two ways : WEB-based internet/intranet service and weather broadcasting service. Various satellite meteorological data services such as searching, displaying, or downloading can be provided on the website of the National Meteorological Satellite Center.
For weather broadcasting services in conjunction with large scale broadcasting receivers, all channel data will be provided at the resolution same as that of imagery captured by the GEO-KOMPSAT-2A Satellite.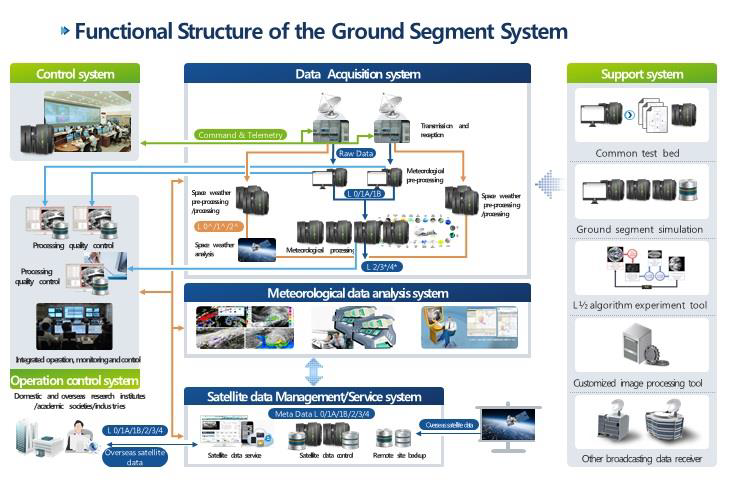 ④ Development of data processing and application technology
NMSC plans to produce 52 kinds of products and develop 4 types of base technologies in the field of meteorological data processing. Also the applications system will be developed to provide the customized information over the Now-casting, NWP, Typhoon/ocean, climate changes and environmental weather monitoring, and converging technology area.