At 00:11 BJT on December 11,China successfully launched Fengyun-4-01 (FY-4-01), the first of Chinese second-generation geostationary meteorological satellite at Xichang Satellite Launch Center, southwest China's Sichuan Province. FY-4-01 is the first of Fengyun 4 geostationary meteorological satellite family of CMA, which is an important milestone for the development of weather satellites in China.
Basic introduction to the FY-4 satellite programme can be found at http://www.nsmc.cma.gov.cn/NewSite/NSMC_EN/Channels/100099.html.
An overview of the FY-4 satellite: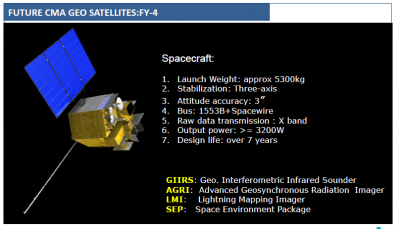 An overview of the FY-4 Ground Segment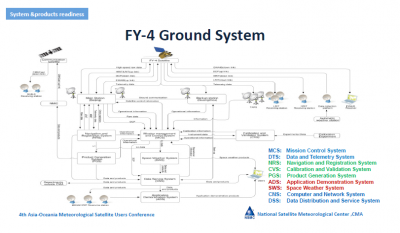 More basic information about the FY-4 satellite and ground system can be found in the presentation given by CMA at the 4th Asic-Oceanic Meteorological Satellite Users Conference in October 2013.